We Are Providing an Environment for Our Students to Grow & Excel
Color Us Kids Learning Center, Inc. is licensed through the Georgia Department of Early Care and Learning. Every type of mind flourishes at Color Us Kids. That's because our programs put collaborative, individualized curriculum in the hands of enthusiastic teachers so that your child will be ready for elementary school. Here, you know your child will meet and surpass milestones, enjoy interactive learning experiences, and receive guidance from nurturing, dedicated teachers.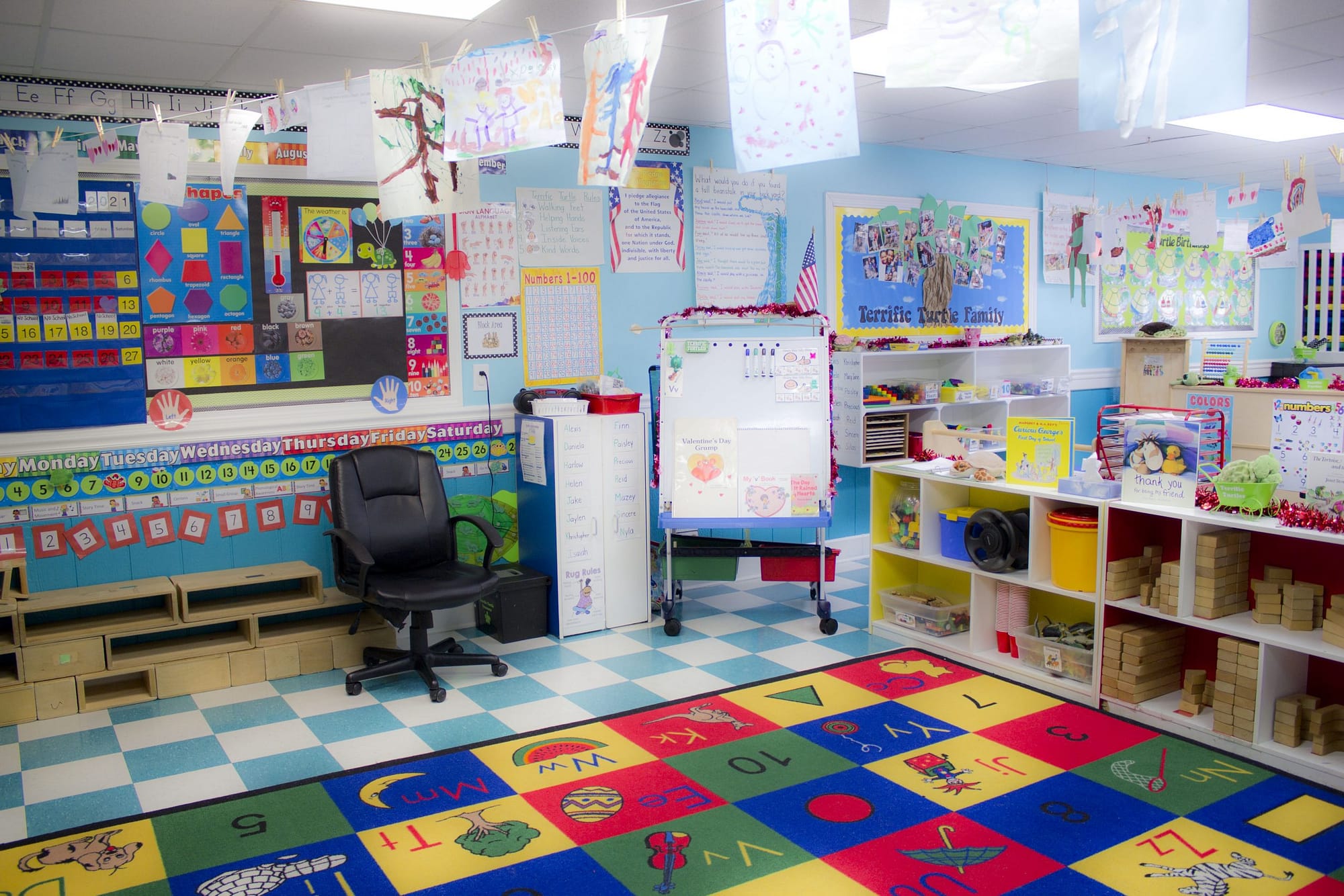 What We Stand For
Kids always come first at Color Us Kids Learning Centers. We know that learning happens in and out of the classroom, so we designed our curriculum to teach and nurture children, creating unique opportunities to excel. Our approach combines early learning and education with quality child care for children aging from 6 weeks up to 12 years old. Each school is specially designed to provide a spacious and bright environment with classrooms that are fully equipped for each age group. We believe that children should be encouraged through many early learning experiences, and our qualified, caring teachers are dedicated to the progress of every child.
Frequently Asked Questions
Where are your four centers located?
Click here to find a Color Us Kids Learning Center near you.
How do I get more information about your childcare programs?
Give your local center a call today! Our directors and team are always happy to give additional information and answer any questions you may have. We invite you to schedule a visit to our school and see what we're all about!
What is your procedure if a student or staff member receives a positive COVID-19 test result?
If a child or staff member receives a positive test result for COVID-19, they will be asked to stay home for 14-days and obtain a negative test result before they return. We will not close the school or cancel class when someone tests positive; instead, we will have the entire building and all classrooms thoroughly sanitized and disinfected.
I want to apply for a job at Color Us Kids Learning Center. Who should I contact?
We are always looking for great teachers, and we offer competitive benefits and innovative programs. We are proud of the atmosphere we create for our educators. To learn more about career opportunities at our childcare centers, please visit the Color Us Kids jobs and careers page.
Is your school currently accepting enrollments?
Yes, we are currently accepting enrollment for all ages (Infants – Georgia Pre-K, and before & after-school care). Spots fill quickly for all programs, so please contact your local center to inquire about availability for each class.
What if I want to enroll my child, but the school doesn't have space available?
Deciding on the right childcare and early education program can sometimes be a long process. Our best tip is to start early! Even if your preferred Color Us Kids Learning Center doesn't immediately have space available, we still recommend registering for your first choice center. Once registered, we will add you to our waitlist, and you will be offered enrollment as soon as space becomes available.
What are the educational goals of Color Us Kids?
This is one of the most important questions you can ask during your search for the perfect child care solution. At Color Us Kids, we know that childhood is a cherished time. We believe we must provide situations and activities that capture childhood joys, nurture each child's growth and development, and build a foundation for school and life success. We promise to:
Create joyful environments for children

Nurture and care for each and every child

Develop curriculum based on research

Support and help advance every teacher

Implement an innovative, discovery-based approach to learning

Foster creativity and curiosity through exploration, projects, and play

Inspire children to be confident experimenters and problem solvers

Build a respectful and inclusive community
What kind of help is offered for children who are transitioning into daycare for the first time?
At Color Us Kids, we recognize that transitioning into daycare for the first time can be stressful for both parent and child. We also believe that you are the best judge of your child's needs. Please communicate any transitioning concerns to our staff as soon as possible. We are happy to work with you to develop a transition plan for your child. You are welcome to bring your child in for pre-enrollment visits to help them feel more comfortable in our center.
For more information, please contact the nearest Color Us Kids location.
Our Teachers
Our early learning classes are staffed with nurturing teachers who undergo thorough background checks and understand children's physical, cognitive, and social advancement. Our team is dedicated to providing an enriching learning experience that promotes personal growth, fosters creativity, supports positive character growth, and encourages academic achievement.
Healthy Food & Nutrition
Our Menu
Breakfast, lunch, and an afternoon snack are provided to all children and are included in the price of tuition. Weekly menus are posted in the center at the front desk bulletin board. Breakfast is prepared at the center and served from 7 a.m. to 8 a.m. A morning snack, nutritious hot lunch, and afternoon snack are prepared at the center and served daily. Teachers eat lunch with the children, who are taught table manners, etiquette, and how to clean the table after finishing their meal. The conversation is directed towards information about the foods served and good nutrition. The meals and snacks served at our centers comply with the USDA Food and Nutrition Service's meal and snack guidelines.
Protecting Your Children
We take the sanitation and quality of our centers very seriously. Our rigorous safety procedures and health guidelines reflect that dedication. Our facilities are sanitized and cleaned throughout each day, and proper hand-washing methods are always part of our everyday routines.
In all of our centers, we will consistently follow COVID-19 preventative measures, and we encourage your family to do the same.
Building Safety & Security
At Color Us Kids, the well-being and safety of children and staff is our priority. All of our custom-designed buildings are strategically equipped with security and safety measures. We operate with strict procedures regarding visitors, as well as keypad-locked facilities to restrict unwanted entry. From play equipment to electrical outlets, we overlook nothing. We think child care is successful only when safety is a fundamental part of the program.
COVID-19 Preventative Procedures:
All staff members are required to wear masks and gloves the entire day.
Schools have established safe pick-up and drop-off procedures, with only children and teachers allowed in classrooms. Staff will pick the children up from their cars in the morning and walk the children back to their cars at the end of the day.
We will perform daily temperature checks upon arrival before entering the school.
Temperatures of 100 degrees or higher will not be permitted in school.
Every meal is provided in the classroom rather than in a congregate/ communal setting.
Staff will be washing their hands and your children's hands frequently.
On top of regularly sanitizing our buildings, we have installed air purifiers in every school, efficiently killing 99.9% of airborne germs.
All staff will be staying quarantined at home – and keeping children home – if COVID-19 symptoms are present.
If a child or staff member has a positive test result for COVID-19, they will be required to stay home for 14-days and receive a negative test result before they return.
Find a Learning Center Near You
Color Us Kids has Children's Learning Centers in 4 convenient locations across metro-Atlanta, including a daycare in Atlanta, Douglasville, Carrollton, and the Paulding County area. Contact one of our centers today to schedule a visit!
What Parents are Saying About Us
"I was very nervous about my babies starting school, based on my experience at a previous daycare, but they welcomed us with open arms… When we came and picked up our babies they were so happy and couldn't wait to tell us about their day. The director and all the front staff and teachers are angels. Thank you so much!"
"Very clean and friendly staff. Our daughter was a preemie so we are quite selective with her care. They do a wonderful job!"
"If you want your children to be looked after as if they were in your care then give Ms. Chan a call and reserve a spot for your child. I moved to Atlanta & Color Us Kids was the first place that cared for my autistic child, so imagine what they will do for your child. All children are special and deserve to be treated with love and respect…."
We can't wait to show you around our Learning Centers! Feel free to schedule a visit at a convenient time for you and your family. We look forward to joining you in the education and growth of your children!
Want to Enroll Your Child?
Send us a message!