Information for Parents & Prospective Families
At Color Us Kids, your child will find teachers who support them and give them the confidence to make new friends and try new things. We're more than educators. We help children develop skills that are valuable for life. Our programs give children the building blocks they need to succeed in school and beyond. We invite you to schedule a tour today and see what we are all about!
Days & Hours of Operation
6 a.m. – 7 p.m. Mon – Fri
All of our daycares have extended hours of operation to better serve your family. We are open from 6 am – 7 pm Monday Through Friday.
Holiday Closings
Color Us Kids is closed on these Holidays:
New Year's Day

Labor Day

Memorial Day

Thanksgiving Day

Black Friday (the day after Thanksgiving)

Independence Day

Christmas Day
The center closes on days of inclement weather if deemed necessary. Call your local center for more information.
Admissions
Applications are accepted for children six weeks to twelve years of age without regard to race, creed, sex, or national origin. Admission is based upon the child's best interests, the expectation that he/she will benefit from the program, and the well-being of the other registered children.
Immunization Form 3231 is required for all children and is due on the first day of attendance.
Registration Fee & Form
A non-refundable registration fee of $75.00 is due yearly. This fee is due again on August 1 of every year the child is enrolled. If your child misses (3) three consecutive weeks, he/she will be unenrolled, and you must pay the registration fee again before returning. When your child enrolls at Color Us Kids, the "Parent Agreement" form, as well as the required state form, must be completed and turned in to our office.
Positive Behavior Reinforcement
Color Us Kids believes that keeping children busy with productive activities leads to fewer discipline problems. We use positive reinforcement for good behavior coupled with an effort to redirect inappropriate behavior to guide our learners toward socially acceptable behavior. No form of physical punishment is ever permitted.
Nutrition
Breakfast, lunch, and a nutritious snack are provided to all children and included in the tuition price. Menus are posted weekly in the center at the front desk bulletin board. Teachers eat lunch with their class and aim to teach the children table manners, etiquette, and how to clean the table after finishing their meal. The conversation is directed towards information about the foods served and good nutrition.
Tuition
Contact your local Color Us Kids Learning Center for our current fee schedule. Tuition is charged weekly and is due each Friday morning in advance for all children. A $35.00 service fee per child will be charged to all accounts paid after Monday.
Policies
The safety and well-being of every child in our care is our priority. Visit our policies page to see details about our procedures for safety, emergencies, and more.
Frequently Asked Questions
What is the child-teacher ratio for classes at Color Us Kids?
View our Child-Teacher Ratio Chart below for our requirements.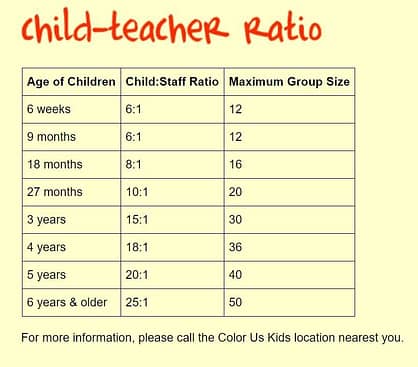 Can I bring a cake for my child's birthday celebration with their class?
Your child's birthday is a special occasion, and we enjoy celebrating with fun and special snacks to recognize your child. If you notify the Director, arrangements can be made to bring a specially prepared snack from home or provide a special snack. Parents are always encouraged to celebrate with us. We do ask that the gift-giving be reserved for home. Please, no latex balloons. 
*Please contact your local center for updated COVID-19 procedures for birthdays*
Can my child bring a toy into the center?
Children may not bring toys, food, or money into the center. Our toys and equipment have been carefully selected to provide a safe and sanitary environment for all children. We will have "Show and Tell" days when the children will be asked to share something special from home. Nutritious snacks and lunches are provided for all children, so there will be no need for children to bring other food into the center unless your child has special diet requirements.
Do you enroll children on a part-time basis?
No. Unfortunately, we are only able to enroll children on a full-time basis.
Is my child's teacher available for babysitting on the weekends?
Color Us Kids does not render child care services off-premises, except in the event of field trips that have been preauthorized by parents or guardians. Accordingly, if a parent or guardian arranges with a staff member for off-premises care of their child, the staff member undertakes such service on his/her own behalf and not as an employee of Color Us Kids. Color Us Kids staff members are selected and retained based on their fitness for rendering child care services in a controlled and fully supervised child care program. Color Us Kids offers no assurance of its staff members' fitness for performing these and other services in an environment that is not professionally supervised (such as transporting children or caring for them in the home), and none should be implied or inferred under any circumstances.
Does Color Us Kids participate in the CAPS program, which helps working families afford child care?
Yes, Color Us Kids is proud to participate in the CAPS program. For more information, visit the Georgia DFCS website.
Can I bring my child in for a pre-enrollment visit?
Yes, absolutely. Please schedule your visit with your local center.
How do teachers communicate with parents?
At Color Us Kids, we know what a difference parent-teacher communication can make in a child's development. Parents receive monthly newsletters and notices as they are needed. Daily reports are sent home for infants through 2-year olds. Every fall and spring, you will have a formal opportunity to meet with your child's teacher and discuss your child's development. We also encourage you to schedule additional conferences if deemed necessary.
Do I need to send a blanket or mat with my child for nap time?
All pre-school aged children are given a daily opportunity to rest, which usually lasts from 1 to 2 hours. Color Us Kids furnishes mats for the children's comfort, and parents should send a small blanket that is clearly marked with the child's name. These items are to be brought in on Monday and taken home to be laundered on Friday.
Do you have vegetarian alternatives within your meal plan, or do I need to send my child's food from home?
Please consult the weekly menus to determine if you will need to send a substitute meal from home for special dietary needs.
How do you safeguard against exposure to food allergies?
Food allergies are posted in the kitchen and each child's room. Such foods are never to be given under any circumstances.
Do all of the classes play together on the playground?
No, Different age-groups play on the playground at separate times.
Are parents informed when a child has been injured, however slight?
Yes, accident and injury forms are sent home the same day that an incident occurs.
Do you offer scholarships or sibling discounts?
We offer $10 off the total tuition for multiple children.
We can't wait to show you around our Learning Centers! Feel free to schedule a visit at a convenient time for you and your family. We look forward to joining you in the education and growth of your children!
Want to Enroll Your Child?
Send us a message!