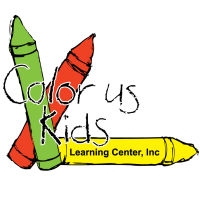 Programs & Age Groups
Contact Us and Apply to any of our 4 Locations in Georgia. We offer daycare services in Douglas County, Paulding County, Carroll County, and Atlanta!
Enroll Now
Infants
Program for babies starting at 6 weeks of age.
About The Infant Program
At Color Us Kids, our staff provides the caring and responsive interaction that babies need for healthy growth and development. Our infant program allows your baby to develop at his/her own pace in a rich and nurturing environment with our low teacher-to-infant ratios. Meal and nap times are determined by each infant's unique needs and schedule.
Our clean, bright, and safe atmosphere encourages babies to explore their surroundings to stimulate emotional, physical, social, and cognitive growth. Through activities that emphasize visual, tactile, and aural stimulation, infants thrive in our comfortable and friendly environment.
Daily Schedule
The infant classroom presents many opportunities for stimulating and nurturing babies growing minds and provides each child a chance to rest and recharge. Young infants determine their schedules- there is no such thing as a "typical day" in an infant classroom! As your child grows, we guide them toward a more structured and organized schedule to provide consistent feeding and rest times.
Music & Movement

Sensory Activities

Social/Emotional

Story Time

Gross Motor

Fine Motor

Outdoor Play
Toddlers
The toddler program includes care for children from 18 months up to 3 years.
About The Toddler Program
At Color Us Kids, toddlers work on their emerging skills through various age-appropriate activities that encourage creativity and a positive self-image. Our enthusiastic teachers introduce music, poetry, and art that stimulate the senses and challenge each child at his/her individual state of development. Through manipulative toys, imaginative play, and engaging activities, toddlers can explore their world in a safe, structured environment.
Daily Schedule
The toddler classroom offers a structured daily schedule to help your growing child learn. Each classroom presents structured activities, story and circle time, movement and music, guided play, meal times, and rest time.
Curriculum and Learning:
Daily Lesson Plans engage your toddler in these areas:
Group Storytime

Math Concepts & Manipulatives

Social Skills

Gross Motor

Fine Motor

Language

Sensory/Discovery

Outdoor Play
Preschool
Our Preschool Program includes care for children from 3 years to 4 years.
About The Preschool Program
Color Us Kids provides preschoolers with opportunities to develop a love of learning! Preschool is a fun and exciting time in your child's life as he/she prepares for a successful transition into school. Learning emerges through regular exposure to concepts, interactions, purposeful play, and new experiences. Our dedicated Pre-K teachers are committed to helping children develop the vital learning skills that lay the foundation for success in later years. Through The Creative Curriculum®, we work toward specific goals in each child's cognitive and emotional advancement while ensuring that they continue to meet developmentally appropriate skills. Our program emphasizes individuality while enabling each child to develop social confidence in a safe and supportive environment.
Daily Schedule
The preschool classrooms offer a nurturing and structured environment that gives children group activities, individualized learning opportunities, play, and various activities to encourage your child's development. Preschool children are engaged in group time, educational play, meal times, and an opportunity for rest time as needed.
Curriculum and Learning:
Daily Lesson Plans engage your preschooler in these areas:
Small-Group Activities

Circle Time/ Large Group Activities

Sensory/Science

Writing/Language Arts

Math & Manipulatives

Music & Movement

Outdoor/Large Motor Activities

Creative/Process Art Activities

Block Play
Georgia Pre-K
The Georgia Pre-K Program includes care for children from 4 – 5 years old.
About The Georgia Pre-K Program
Color Us Kids is proud to participate in the Georgia Pre-K program, enabling 4-year olds to attend a high-quality Preschool. Because the program is funded through the Georgia Lottery for Education, there is no tuition for enrollment in our Pre-K program.
Eligibility Requirements
The child must be 4-years old on September 1 of the current school year.

The child's parent(s) or guardians(s) must be Georgia residents.
Required Forms
Hearing, vision, and dental examination certificates (DHR Form 3300) must be on file within 90 calendar days of program entry.

Immunizations (DHR Form 3231) must be up-to-date, or affidavits must be on file within 30 calendar days of program entry.
Daily Schedule
At Color Us Kids, Georgia Pre-K is an essential building block to kindergarten success. We ensure that children achieve meaningful development progress and build collaborative skills by working independently and in groups through a strong early childhood education strategy. Our Georgia Pre-K program focuses on:
Responsive and careful listening
Problem-solving
Collaborative social skills
Implementing language in learning
Curriculum and Learning:
Daily Lesson Plans engage your preschooler in these areas:
Creative Arts
Group Activities
Language
Writing/ Literacy
Logic & Reasoning
Early Math
Nature & Science
Social Studies
Physical Development/Health
Social-Emotional Development
Summer Camp
The Summer Camp Program provides care for school-aged children during the summer months. Please contact your local center for more information about the summer camp program.
About The Summer Camp Program
We offer summer camps for children ages 5-12 that emphasize weekly themes filled with new adventures and discoveries. Your child will have the opportunity to participate in fun-filled activities that include art, music, games, picnics, and field trips. At Color Us Kids, children have the opportunity to explore new horizons and discover that SUMMER TIME IS FUN TIME!
Daily Schedule
The School-Age program offers parents and students Before School, After School, Before & After school, or Summer Vacation options. Our mornings are filled with fun activities to help "wake up the brain" as children begin their day. Students are given a choice of which activities they would like to participate in based on their interests. Homework assistance is always available.
Curriculum and Learning:
Daily Lesson Plans engage your School-Age student in the following areas:
STEM (Science, Technology, Engineering, and Math)

Math

Vocabulary

Physical Education

Art

Literacy

Community Building

Enrichment Activities

Field Trips
Afterschool Care
We provide before and afterschool care for school-aged children and transportation to and from local schools.
About Before & After School Care
At Color Us Kids, we greet After Schoolers with a smile and offer them a nutritious snack. Our program for children up to 12 years old provides a range of creative exploration and discovery opportunities with outdoor and indoor free play and various hands-on activities. Children are offered quiet time to work on homework with assistance from our caring staff.
We Provide Transportation To And From The Following Schools:
Carrollton:
Carrollton Elementary

Carrollton Middle

Central Elementary

Sharp Creek Elementary

Sand Hill Elementary
Douglasville:
Winston Elementary

Sweetwater Elementary

New Manchester Elementary

Sheltering Arms (Headstart)

Factory Shoals Elementary

Factory Shoals Middle School

Mt. Carmel Elementary
Paulding County:
P.B. Ritch Elementary

Hutchens Elementary

AllGood Elementary

Nebo Elementary

Baggett Elementary

Dugan Elementary
Atlanta:
Cliftondale Elementary

Stonewall Tell Elementary

Renaissance Elementary
When children investigate, discover, and play — they learn.
Color Us Kids Learning Centers utilize The Creative Curriculum® in all classrooms. The Creative Curriculum® is the nations' leading scientifically-based curriculum for schools educating children from birth to age five and is approved for use by the Georgia Department of Early Care and Learning.
Our Approach
Studies show that a whole-child approach to education, where children can develop literacy and math skills combined with social-emotional, physical, and cognitive skills, is more developmentally appropriate and better prepares children for success.
The Creative Curriculum® is one of the most widely used pre-K curricula in the nation. It's research-based and comprehensive and features exploration and discovery as a way to educate.
The resources provided help teachers create high-quality learning settings and understand early childhood education best practices. This allows our educators to make every moment of the day meaningful and engaging.
The Creative Curriculum® for Preschool is…
Rated higher than any other Pre-K curriculum

Proven to enhance kindergarten readiness

Inclusive, supporting every child

Academically solid and promotes social-emotional development

Aligned with the state of Georgia early learning guidelines and the Head Start Early Learning Outcomes
Goals for Development and Learning
The Creative Curriculum® helps us plan a developmentally appropriate program that promotes children's social-emotional development and education in the core areas of science, literacy, social studies, and mathematics. It combines the latest research and freshest ideas into an innovative approach to education, valuing creativity and recognizing the vital role that preschool teachers play in making learning relevant and exciting for all children in their classrooms.
The Creative Curriculum® individual approach is intended to inspire daycare teachers to create a quality learning atmosphere and to support their efforts as they open doors to successful learning.
Strategies to Support All Learners
Utilizing The Creative Curriculum®, our educators can design a complete method that supports positive outcomes for every child, including advanced learners, children with disabilities, and English-language learners. The Creative Curriculum® is based on five key principles, including:
Social-emotional skills are an important part of school success.

Positive relationships and interactions with adults contribute to a strong foundation for learning.

Purposeful, constructive play promotes fundamental education.

The atmosphere affects the type and quality of learning interaction.

Teacher-family partnership promotes education and development.
We know that our classroom environment affects individual children, preschool teachers, and the group as a whole, which is why we strive to provide an atmosphere that is safe, comfortable, and well-designed to help children engage in educational activities.
The Creative Curriculum® includes interest areas that are excellent for children to create, explore, experiment, and pursue their interests. The Creative Curriculum® classroom has established learning areas for block building, pretend play, art, toys and games, reading, writing, sensory play, discovery table, music, and cooking activities.
Our Daily Lesson Plans
Each Lead Teacher creates weekly lesson plans within The Creative Curriculum® tailored to their students' development needs and interests. We incorporate a weekly theme, a shape, a color, numbers, a letter, singing, counting, outdoor play, small group, and large group. Some weekly theme examples include:
All About Me

Outer Space

At the Zoo

Under the Sea

Let's Get Cooking

Juicy Fruits

Colors of the Rainbow

Dinosaurs

Good Hygiene

Spring has Sprung

Let's Fly a Kite

The Sun

My Feet & Hands

Salty things

Sweet things

My Five Senses

Dr.Seuss

And more
Throughout the investigation into each of these various topics, we concentrate on all areas of development, including language, physical, social-emotional, literacy, cognitive, science, the arts, math, technology, and social studies. Each lesson plan is created based on the children's unique developmental needs in the classroom. Our daycare teachers continually observe and document each child's development.
Our childcare teachers complete assessments several times throughout the year. The lesson plans are designed based on where the children are developmentally at each of these assessments. This ensures that our daily lesson plans are customized for our students' individual needs.
Interested in Enrolling Your Child?